THE BLUES
The Blues musical genre developed in the black community in the rural southern US toward the end of the 19th century, finding a wider audience in the 1940s as blacks migrated to the cities. The blues form, ubiquitous in jazz, rhythm and blues and rock and roll, is characterized by the call-and-response pattern, the blues scale and specific chord progressions, of which the twelve-bar blues is the most common. The Blues began in the Deep South first as The Delta Blues then regional styles evolved and developed distinct Regional Styles including Chicago Blues, Memphis Blues, West Coast Blues and many more.
---
AMERICAN FOLK BLUES FESTIVAL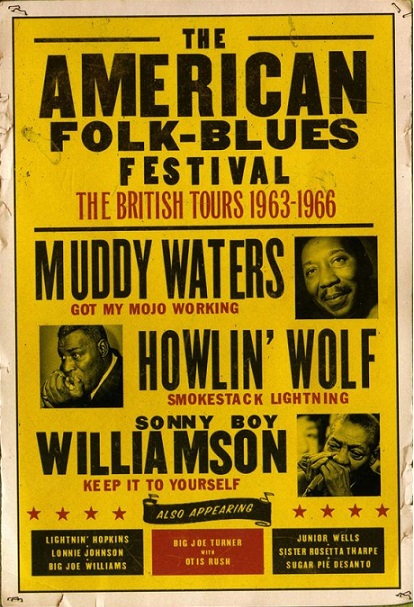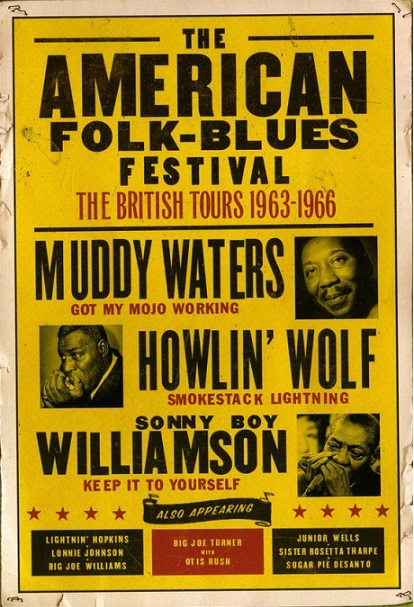 The American Folk Blues Festival was a music festival that toured Europe as an annual event in the early 1960s. It introduced audiences in Europe, including the UK, to leading blues performers of the day. The tours attracted substantial media coverage, including TV and radio shows, and contributed to the growth of the audience for blues music in Europe and worldwide.
Promoters Horst Lippmann and Fritz Rau brought this idea to reality. By contacting Willie Dixon,an influential blues composer and bassist from Chicago, they were given access to the blues culture of the southern United States. The first festival was held in 1962, and they continued almost annually until 1972, after an eight-year hiatus reviving the festival in 1980 until its final performance in 1985.
The concerts featured some of the leading blues artists of the 1960s, such as Muddy Waters, Howlin' Wolf, Willie Dixon, John Lee Hooker and Sonny Boy Williamson, some playing in unique combinations such as T-Bone Walker playing guitar for pianist Memphis Slim, Otis Rush with Junior Wells, Sonny Boy Williamson with Muddy Waters. The Festival DVDs include the only known footage of Little Walter, and rare recordings of John Lee Hooker playing harmonica.
---
The Blues Tribute Show showcases many favorite standards from American Blues Legends (many who toured with the American Folk Blues Festival), including BB King, Lowell Fulsom, Muddy Waters, Albert King, Elmore James, Ruth Brown, Koko Taylor, John Lee Hooker, Otis Redding, Bobby Blue Bland, Jimmy Reed, Buddy Guy, Ray Charles, Etta James, T-Bone Walker, Robert Johnson, Albert Collins and more.